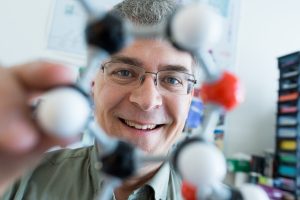 Associate professor of chemistry, Stephen McNeil, has been awarded the Chemical Institute of Canada Award for Chemistry Education. Presented to one person, annually, the award recognizes outstanding contributions to education at the post-secondary level in the field of chemistry or chemical engineering.
McNeil was selected for his work in leading a reform of the content and delivery of UBCO's introductory chemistry courses. His innovations have included developing, implementing, and assessing flipped delivery activities; active and guided-inquiry learning; and a context-embedded curriculum. His ongoing interests include the development and assessment of active- and collaborative-learning methods, alternative conceptions of advanced chemical bonding models, and science communication and chemistry outreach.
McNeil has been teaching at UBC Okanagan since 2005, and also won the coveted Killam Teaching Excellence and Innovation award in 2018.