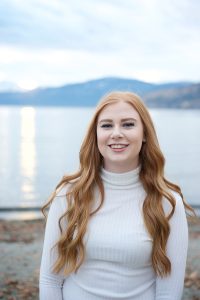 The Department of Chemistry proudly recognizes Amanda Darbyshire's outstanding achievements, as she has been honoured with the UBC Okanagan Provost Award for Teaching Assistants and Tutors.
Amanda Darbyshire is an exceptional individual who has made a significant impact as a long-standing first-year chemistry Teaching Assistant and a fourth-year student in the PhD program for Biochemistry and Molecular Biology, working in the Wolthers lab. She has consistently displayed unwavering dedication and remarkable contributions in various aspects of her role.  
Amanda's involvement in lab development work has been invaluable, and she has played a pivotal role in leading TA meetings. Beyond her regular TA duties, which encompass teaching labs, marking assignments, proctoring examinations, and adapting courses to the online format during the challenging times of the COVID-19 pandemic, Amanda has consistently exhibited remarkable enthusiasm and creativity.  
One area where Amanda truly shines is her exceptional assistance in delivering upper-level chemistry courses, such as the esteemed third-year biophysical chemistry labs. Her peers in the laboratory teaching team commend her for her exceptional ability to expand upon textbook and laboratory materials. She accomplishes this by creating engaging and informative online videos that visualize lab exercises. Furthermore, she offers expert guidance in data analysis, expertly composes calculation guides, and provides worked-out examples that prove to be instrumental in students' understanding. Additionally, Amanda emphasizes the importance of safety procedures, waste management, and green chemistry principles, ensuring students are well-versed in these crucial aspects.
Amanda Darbyshire's tireless efforts and outstanding abilities have earned her well-deserved recognition. The Department of Chemistry celebrates her accomplishments and applauds her for her significant contributions, which have positively impacted the academic community.
Learn more about the UBC Okanagan Provost Award for Teaching Assistants and Tutors.